Kerala: A cabinet minister himself has set an example for others by leaving his house for National Highway widening. Minister G Sudhakaran who is holding Public Works Department (PWD) has left his family home in Thokkukulam junction after the area was acquired for road widening.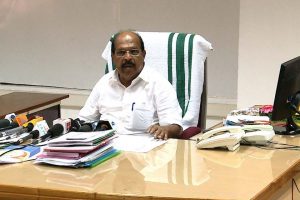 G Sudhakaran, a senior communist leader has been living at this house with his family for the last 35 years now. As the national highway widening project started the proposed road would take up more than 50% of the house and surrounding property.
The minister who is charge of roads and public works decided not to deviate the alignment in his favour. Minister and his family will now move to another house near Paravoor Government School in the district. Kerala has one of the worst road networks in the country.
Only 10 % of National Highways are 45 meter, 4 lanes as prescribed by National Highway Authority. A North-South stretch in the neighbouring Tamil Nadu can be covered in 10-12 hrs (700 km from Chennai to Nagercoil), it would take 15-18 hrs to cover the 600 km from Kasargod to Thiruvananthapuram.
Land acquisition has been the major road block to the road widening projects in the state . Many families claim that they cannot give more land as they already given land to widen the national highway in 30 meter width. Attempts to acquire land have triggered protest in many parts of the state