New Delhi: A Veteran Congress leader Priya Ranjan Dasmunsi, who had been in coma since 2008, passed away on Monday. He was 72 years old.Priya Ranjan Dasmunsi was an MP from Raiganj in West Bengal.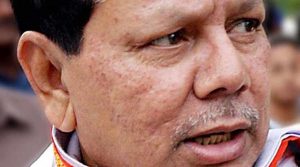 His wife Deepa now represents the constituency. Priya Ranjan Dasmunsi had been in coma since 2008 when he suffered a massiv stroke which left him paralysed and unable to speak. Dasmunsi, who had been the Union Parliamentary Affairs Minister, had been on life support system since the stroke which had blocked off blood supply to a part of his brain, causing irreversible damage.
Though all his basic body systems were functional, he was not conscious of his surroundings and was breathing through a tracheostomy tube in his neck. Dasmunsi, an avid follower of sports, had headed All India Football Federation for a long time.
He is survived by his wife Deepa Dasmunsi and son Priyadeep Dasmuni.Reacting to news of the veteran leader and union minister's death, leaders from across parties condoled his death.