Srinagar: An army soldier, who had gone missing last evening, has been killed by suspected terrorists in the Shopian area of South Kashmir. The body of Irfan Ahmad Dar was found with bullet marks this morning, the police said.
The police say they are investigating the incident and if terrorists are behind the killing of 23-year-old soldier who had come home on vacation.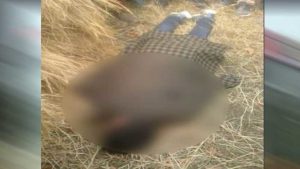 Officials say Irfan, a territorial army jawan was posted with the Engineering Regiment of the army at Gurez near the Line of Control.A senior officer said Irfan Ahmad Dar had left home last evening in his car and his body was found this morning.
The vehicle was also found one kilometre away from the location.Chief Minister Mehbooba Mufti, who is on a tour in South Kashmir, has strongly condemned the killing. Irfan Ahmad Dar is the third off duty Kashmiri soldier killed this year.
In May, Lt Umar Fayaz was killed in the same area after terrorists kidnapped him from a marriage party in Kulgam district. In September, Mohammad Ramzan Parray of the Border Security Force was shot dead by terrorists when he and his family resisted attempts to kidnap him.
(source-NDTV)