CAIRO :At least 235 people were killed when gunmen opened fire and bombed a mosque in Egypt's volatile Sinai Peninsula on Friday. Government officials said 109 more had been injured in the attack, among the deadliest in Egypt's history. Egypt's military has responded with air strikes directed at "terrorist" locations and vehicles after at least 235 people were killed and scores more injured in a bomb and gun assault on a mosque in the north Sinai.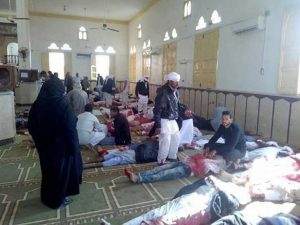 In the deadliest attack in the country in recent memory, a bomb ripped through the al-Rawdah mosque as Friday prayers were finishing, before militants in four off-road vehicles approached and opened fire on worshippers. Some witnesses said they had seen around 20 attackers. More than 50 ambulances ferried casualties from al-Rawdah mosque in Bir al-Abed, about 25 miles (40km) west of the city of Arish, to nearby hospitals.
Pictures from the scene show rows of bloodied victims inside the mosque, and at least 130 people were reported to be injured.No group claimed responsibility for the attack, but it marks a major escalation in a region where for the past three years Egyptian security forces have battled an Islamic State insurgency that has killed hundreds of police and soldiers. The Egyptian president, Abdel Fattah al-Sisi, delivered a defiant television address on Friday evening, vowing to respond with "brute force" and offering condolences to the families of victims.
"This act will only increase our will and unity," he said. "The police and military will avenge our martyrs and restore peace and security." He added: "We will respond with brute force to combat these terrorists and deviants … This is an attempt to deter us from fighting terrorism and to destroy our will, but we are steadfast, and I say to all Egyptians, the battle you are fighting is the most honourable."
Hours after the attack, Egypt's military launched airstrikes on targets in mountainous areas around Bir al-Abed, security sources and witnesses said. The targets were described as vehicles used in the attack and "terrorist" locations where weapons and ammunition were stocked. Sisi, a former armed forces commander who presents himself as a bulwark against Islamist militants in the region, convened an emergency security meeting with his defence and interior ministers and intelligence chief after the attack and declared three days of mourning.
One witness, a shop owner from Bir al-Abed, said local people heard a massive blast followed by gunfire. When he arrived at the site of the attack he saw people rushing to pick up the bodies and to offer help to the injured. He said he saw at least 20 bodies wrapped in cloths and blankets.
One resident whose relatives were at the scene told Reuters that the attackers shot at people as they left the mosque, and also at the ambulances. The attackers had also set alight nearby vehicles to try to block routes away from the mosque.The mosque belongs to a Sufi order – a mystical branch of Islam whose followers are regarded by hardline Islamists as apostates because they revere saints and shrines.
( Source: theguardian)