Mumbai: When actor Varun Dhawan obliged a fan with a selfie, little did he know that this would get him into trouble with the Mumbai Police. The actor was stuck in traffic and a lucky fan stuck right next to him got an opportunity to get a picture with him.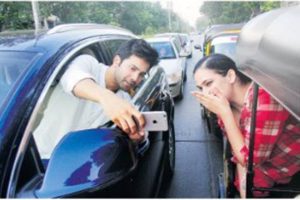 The moment must be unforgettable for the fan but now even Varun won't forget about it anytime soon. Mumbai Police is pretty savage with its social media game and they sent a message for Varun via their Twitter handle.The message said, ".@Varun_dvn These adventures surely work on D silver screen but certainly not on the roads of Mumbai! U have risked ur life,ur admirer's & few others.
V expect better from a responsible Mumbaikar & youth icon like U! An E-Challan is on d way 2 ur home. Next time, V will B harsher".The Judwaa 2 actor was just obliging a fan but he has actually ended up with a challan. As pointed out by the police, this could have been dangerous and they have advised the Badrinath Ki Dulhania actor to never try such a stunt ever again.
The tweet also said that a responsible Mumbaikar like him who is also treated like a youth icon must be setting an example with his actions. Varun replied saying, "My apologies 🙏 Our cars weren't moving since we were at a traffic signal and I didn't want to hurt the sentiment of a fan but next time I'll keep safety in mind and won't encourage this."Varun can indulge in all the action scenes on the silver screen but looks like in real life, he will be treated like a regular citizen by the police officials